M2M
With the initiative of Movilforum Telefónica supports the technological transformation of their customers by boosting the creation of the best M2M solutions that help to develop the new connected world.
M2M
Telefónica as a world leader in providing integrated communications services has also been positioned as a leader in managed machine to machine services (Gartner, October 21, 2014).
The machine to machine communications systems (M2M) are one of the fastest growing and most profitable sectors in the world of telecommunications. In the United States it is estimated that IT services for M2M solutions will grow at an average annual rate of 23% until 2016. (Gartner Market Trends: Ten Leading CSPs Efforts to Accelerate M2M Grab the Opportunity, July 2014)
Telefónica takes this opportunity to offer the most attractive M2M products. In this market is key to have the best partners to exploit synergies and offer a more competitive value chain for our customers. With Movilforum Telefónica aims to build the best M2M commercial offer and share this with our partners to achieve the best results in the market. For this Movilforum offers its partners:
Specific trainings on Telefónica´s platforms and underlying technologies
Access to Telefónica M2M platforms: Smart Business Control and Smart M2M (managed connectivity)
Access to detailed documentation on these platforms (in member area for partners)
Unique support to launch your business in this new market
If your company is an expert in M2M solutions why don't you become a partner of Movilforum? You should not miss the opportunity to incorporate your solutions in the commercial offer of Telefónica Spain within the areas of M2M (Managed Connectivity, Smart Cities, Transport, Industry, Energy and Financial Services).
IoT Platform
 The IoT platform is a modular solution for data collection and analysis which allows customers to understand the relevant information parts in real time and react on it. The platform collects and analyzes data from sensors that are deployed in the field allowing users to manage real-time data and include historical information in order to optimize their processes or develop new business opportunities. Features: Gateway:
Connect actives and receive data
Integrate all protocols of M2M devices
Comprehension and interpretation of relevant information
Its mission is to isolate the layers of data processing and application services from the complexity of the devices and networks in terms of access and security protocols
Data processing and storage:
Provides intelligence on previously normalized data
The functionalities in this layer include receiving and sending data in a standardized format, storage and processing according to a set of rules that are pre-configured by the customer
Applications service:
Presents commercially interesting information to the client
It is based on software modules to easily being able to view information and a group of powerful and secure APIs with a full disclosure of all features
Access to M2M data, management of devices, rule creation and data visualization
With clear benefits for your company:
Access to relevant business information on operations
Access to real-time information to reduce response time and faster decision-making
Revenue assurance through the prevention of fraud and losses
And all this with a major advantage: An open platform that is purely based on standards (compatible with FI-Ware) which means no compatibility issues while integrating.
Smart M2M
Smart M2M Solution is a leading platform for the connection, management and control of M2M (machine to machine).
In a world where more and more devices from cars to consumer electronics are connected via SIM cards, the management and visibility of these lines is essential. The Smart M2M platform developed by teams of Telefónica R&D is a secure, flexible and reliable solution for our customers.
Smart M2M Solution incorporates new and advanced features like control of traffic in type, volume and current consumption, technical supervision of the lines (maps of connected devices, advanced diagnostics) and location in real time.
It also offers advanced options to combat fraud including the ability to restrict communications between a list of devices or the possibility of traffic limits.
This platform from Telefónica works with global and regional customers: The solution Smart M2M leverages the presence of Telefónica in 25 markets to offer it to its users in an individualized service based on their local needs. The customers will receive technical support in their native language and will benefit from a network that is locally maintained.
The solution allows using national SIM cards only to limit the data connectivity to a specific country to ensure compliance with national regulations. The Smart Center improves your productivity on a global scale in the field of M2M providing tools for management of the connectivity of your devices These tools include:
SIM card management, visualization and management of its parameters through the inventory, activation and other changes in administration
Assignment or migration of lines to different business plans
Consultation pre-invoices
Management of users and organizations
Management of reports and alarms
As a part of the tools provided by the Smart Center there are some APIs to integrate the product functionalities in your CRM systems.
Arduino
Arduino is an open platform for creating prototypes based in software and hardware flexible and easy to use.
Arduino can take information from the environment through their input pins of a range of sensors and can affect what surrounds controlling lights, motors, and other actuators. The Arduino microcontroller is programmed using the Arduino programming language (based on Wiring) and the Arduino development environment (based on Processing).
The projects made with Arduino can run without connecting to a computer, while having the ability to do and communicate with different types of software (ex Flash, Processing, MaxMSP). The plates can be handmade or purchased; the software can be downloaded for free. The reference design files (CAD) are available under an open license, so you're free to cover your needs.
What is "GSM / GPRS shield" for Arduino?
The "GSM / GPRS shield" is an Arduino compatible standard that has been developed by Arduino in collaboration with Telefónica. This plate provides GSM / GPRS connectivity through a quad band modem that allows to be used in all over the world. Although it has an internal antenna the plate can connect an external antenna to expand its coverage. The plate includes a prepaid SIM that provides global connectivity through the various operators in the Telefónica group. Once you run out of credit it can be easily recharged via Movilforum's web.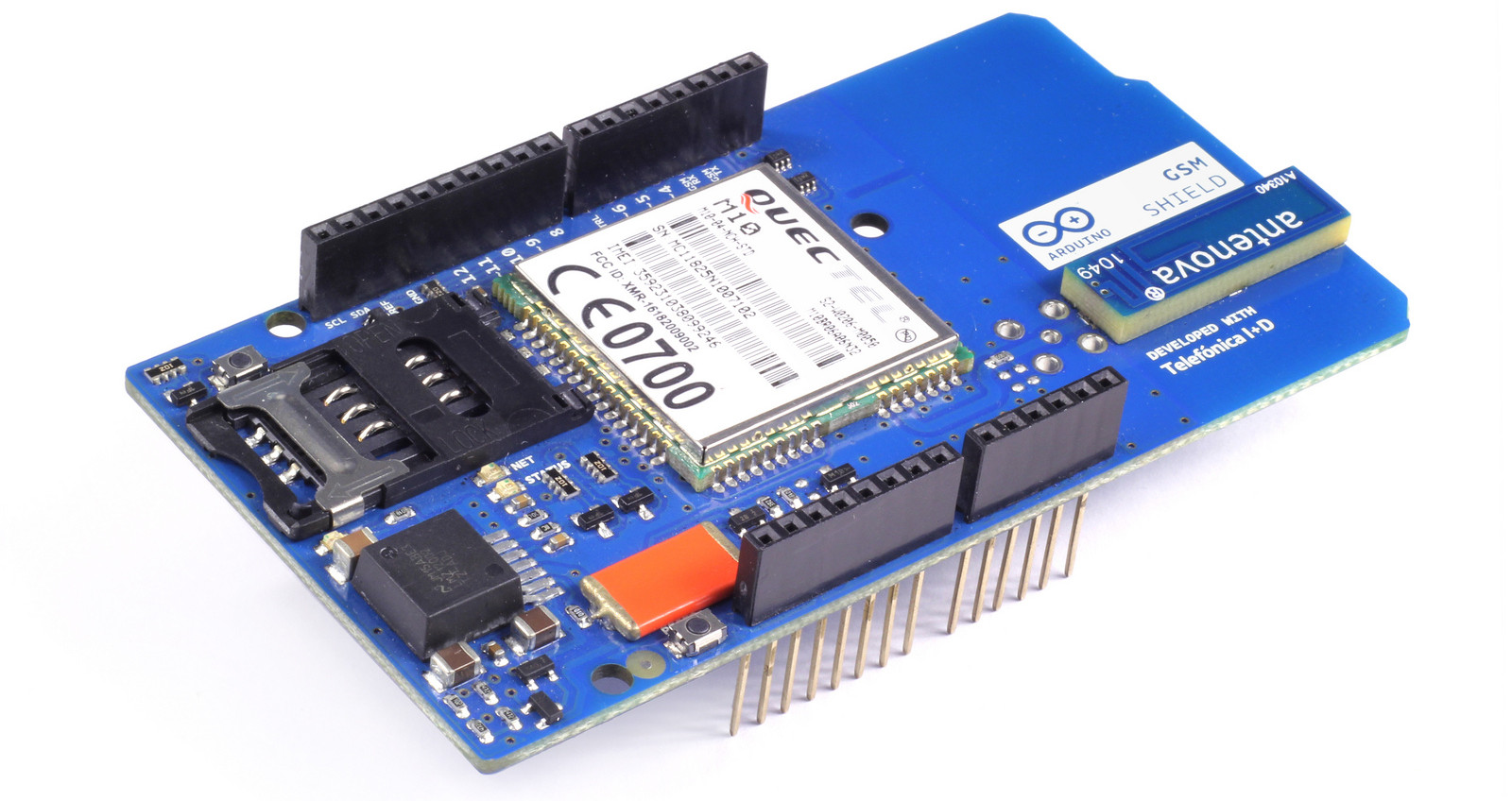 The community of open hardware is the most promising and democratic effort that can connect things and people to the internet. Although there are many platforms used today Arduino is an outstanding platform with its worldwide community of companies, universities and entrepreneurs.
Movilforum the partner program of Telefónica helps these communities to connect their work and offer a range of products to cover the entire M2M value chain. In addition users of Arduino that employing the Shield can subscribe to a service provided by Telefónica that allows managing their Arduino remotely via the web of Movilforum. The service includes own M2M SIM cards of Telefónica that allow to access to the service from UE, the United States and most of South America.
The GSM shield of Arduino together with the Telefónica SIM cards is connected to the connectivity management platform "Smart M2M" which allows sending and receiving data and SMS to and from any device. From the activation of the card in own Movilforum ´s portal you can have 10MB of data and 10 SMS for only 10€ and for six months. In addition Movilforum organizes training events, documentation and video tutorials on these technologies to their partners.
Thinking Things
We present the end-to-end platform that allows to anyone to create new products and services on the Internet of Things:
Modular hardware: It allows combining plug´n´play modules with different capacities: Sensors, Actuators, Connectivity and Power to create connected customized devices.
Global Connectivity: Thinking Things are connected to almost every zone of the world by mobile connectivity of Telefónica´s M2M out of the box
Easy to use interface: For remote control and monitoring of Thinking Things, and creating automatic behavior through web interface. You can use rules to send SMS alerts, emails, twitter when a trigger is fired
With APIs for developers: It provides a user interface that allows to expand the capacities of Thinking Things or to be integrated with your systems